When choosing your room, considerations may include your budget, room availability, location on the ship, and any special requests or accommodations you require. Each room type may vary in room size and amenities, and can correspond to a different location on the ship. Visit: How do I make a special room request?
Most cruise lines offer four different room types:
Interior

: most economical rooms with standard amenities but without a window.

Oceanview

: comfortable rooms featuring an exterior facing window.

Balcony

(Recommended)

: comfortable rooms featuring a private balcony usually overlooking the ocean.

Suite or Junior Suite

: large rooms with a private balcony that may include added amenities and special services. Some suites may accommodate additional guests and/or feature multiple rooms.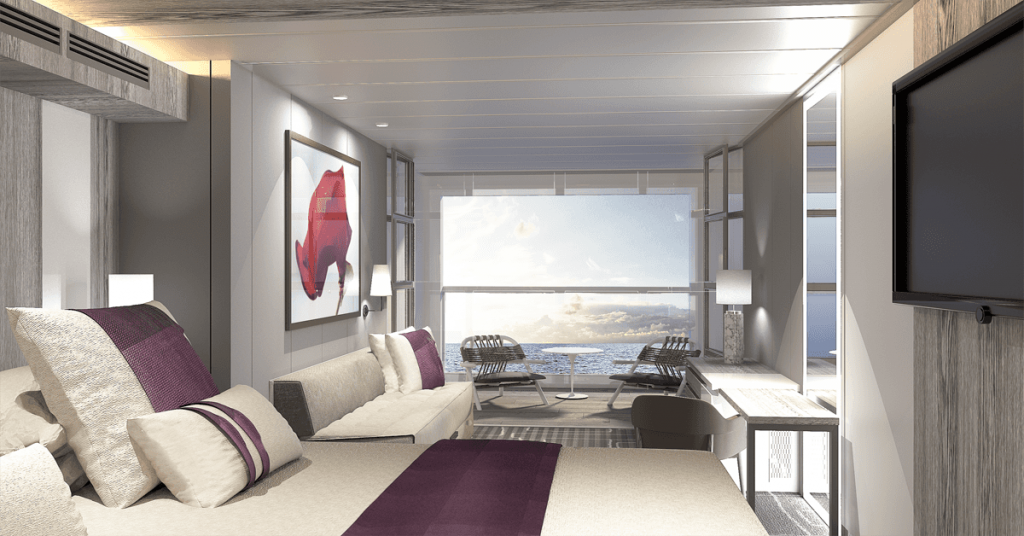 Most rooms will have 2 twin beds that can be pushed together to make a queen bed. If more than 2 passengers are staying in the same room additional bedding will be available, such as a pull down bunk bed, and/or a roll in Pullman bed. Some rooms will be equipped with bedding that cannot be changed or modified, such as beds that cannot be pushed together to make a queen or pulled apart to make 2 twins, and even with 2 bunk beds that cannot be changed or modified.
Cruise lines may offer "guarantee" type rooms for a lower price. This option secures the room type, but does not confirm the location, deck, view, or room assignment until closer to the sailing date. The room is selected by the cruise line and could have a partially to fully obstructed window or balcony. Some guarantee rooms may have bed configurations that cannot be changed, such as bunk beds.
********************************
Book directly with BJ's Travel for our exclusive benefits:
110% Best Price Guarantee on vacation & cruise bookings
BJ's Gift Cards on vacation, villa & cruise bookings, where applicable
Limited-time offers and discounts
Travel experts available 24/7Up to 50% off hotel bookings
Up to 35% off car rentals
Book your next vacation online or call us at 888-743-2735.