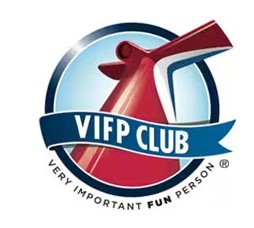 When enrolled with Carnival, you're more than just a VIP. You're a VIFP - A Very Important Fun Person. Combining your VIFP rewards with our exclusive offers is as easy as entering your loyalty number once you have selected your itinerary on our website. If you do not have your VIFP number handy, you can search for it on our site after you have selected your sailing.
To earn VIFP Points, all you have to do is cruise! For every day you sail with Carnival, you earn one VIFP Point. For example, take a 5-day Caribbean cruise and earn Five VIFP Points. 7-day Alaska cruise earn Seven VIFP Points. The more you cruise, the more VIFP Points you get. The more VIFP Points you get, the faster you'll move into the next level of the program.
Enroll before your first cruise or any time thereafter; Membership to Carnival Cruise Lines' VIFP ("Very Important Fun Person") Club is available on all cruises.
There are five (5) levels in the VIFP Club. Each day you cruise means another VIFP Point, so whether you like long cruises or spontaneous getaways, you'll find racking up VIFP Points is easy and fun.
Blue (first Sailing)
Red (Second sailing - 24 points)
Gold (25-74 points)
Platinum (75-199 points)
Diamond (200+ points)
All VIFP Club members are special, even if you've never cruised with Carnival before. That's why the benefits start as soon as you join, with special things like members-only promotions. Every time you come back, you get an exclusive Sail & Sign card that shows the world what a VIFP you are. Plus you get other cool benefits like collectible Carnival items, invitations to members-only cocktail receptions, priority boarding and more. All aimed at making each cruise a little more special and a lot more fun.
Did you know you can combine all of these great benefits with our exclusive deals? This will give you not only all of the cruise line offers, including loyalty level deals, but also our exclusive deals all in one booking. Enter your VIFP number when booking your Carnival cruise today. If you don't have your VIFP number handy, use our lookup tool to get your number for additional rewards.
Benefits:
Blue - First Sailing

Members-only offers
Member e-newsletter

Red, Second Sailing - 24 points:

All benefits of previous level
One liter of bottled water

Gold, 25 - 74 points:

All benefits of previous level
Appreciation drink on 5+ cruises
Gold VIFP pin on every sailing

Platinum, 75 - 199 points:

All benefits of previous levels
Priority check-in and boarding
Platinum and Diamond VIFP Party on 5+ day sailings featuring complimentary drinks
Complimentary beverage at Seaday Brunch
"Chocolate Delight" delivered to stateroom on 5+ day cruises
Unique, collectible pin received on each sailing
Priority Spa reservations
Priority tender boarding (ship to shore only)
Casino - buy one tournament entry, get one free. Blackjack or slot only
$5 Complimentary Arcade credits for guests under 18
Carnival logo gift on every sailing
Dedicated onboard Guest Services phone number
Priority line at Guest Services desk onboard
Priority debarkation
Priority Main Dining Room and Specialty Restaurant reservations
Complimentary wash & fold, number of bags determined by length of cruise

Diamond, 200+ points:

All benefits of previous levels
Guaranteed Main Dining Room and Specialty Restaurant reservations
Priority reservations at Specialty restaurants
Unlimited complimentary wash & fold service
Special invitation from the Captain on each sailing
One-time free cabin upgrade OR 3rd / 4th guests sail free
One-time donation to St Jude Children's Research Hospital
One-time complimentary meal for two at Specialty Restaurant of choice
VIFP Club luggage tag set presented once at Diamond level
Dedicated toll-free number for sales and service
Not a member? Sign up today with one of our agents!
********************
Unlock big savings up to 30% off + more on Carnival sailings with Bj's Travel with all the cruise line offers and more. BJ's Travel gives you exclusive bonus offers for free with every booking. Book your next Carnival Cruise and combine your VIFP loyalty benefits, plus our exclusive offer!
Call us at 888-743-2735 if you need help finding the perfect cruise.