Celebrity Cruises is a premium cruise line known for its luxury and sophistication and features a fleet of ships sailing to over 300 destinations all over the world. The company has recently added several new ships, each of which promises to provide an unforgettable cruise experience!
New Celebrity Cruise Ships:
The Celebrity Xcel combines the greatest hits of the Edge Series—including all your favorites—with entirely new experiences that will change the game all over again. Set to take her maiden voyage in November 2025, the ship will take the tropics to breathtaking new heights with sailing in the Caribbean. The Celebrity Xcel will reveal more exciting details over the coming months, from visionary new spaces to delicious new food and drink concepts.
The Celebrity Ascent is the fourth of Celebrity's new Edge Class of ships. Set to take her maiden voyage in December 2023, the ship reflects the line's innovative outward-facing design with expanded open-air spaces and 32 distinct restaurants, bars, and lounges. After departing from Ft. Lauderdale, she will sail the waters of the Eastern Caribbean. The Celebrity Ascent will feature accomplished maritime brothers Captains Dimitrios and Tasos Kafetzis as the co-captains.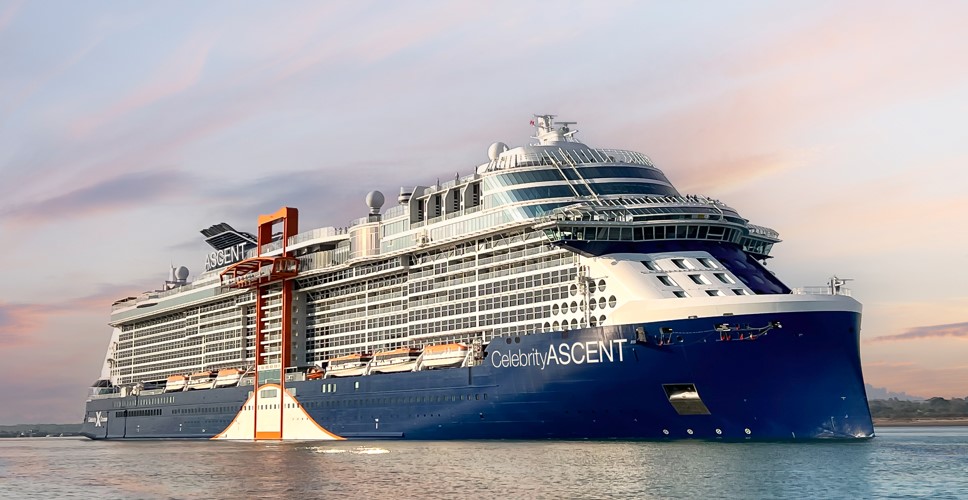 The Celebrity Apex took her maiden voyage in 2021 and is a sister ship to the Celebrity Edge. It is a 129,500-ton ship that carries almost 3000 passengers. It features innovative design elements such as the Magic Carpet, a cantilevered platform that moves up and down the ship's side, and the Edge Staterooms, which feature infinite verandas that blur the lines between indoor and outdoor living.
The Celebrity Beyond took her maiden voyage in 2022 and is the third ship in the Edge series. Like its predecessors, the Celebrity Beyond features cutting-edge design elements and technology. The ship is 140,600 tons and accommodates up to 3,260 passengers. It has a host of luxurious amenities, including a multi-level atrium, a rooftop garden, and a solarium.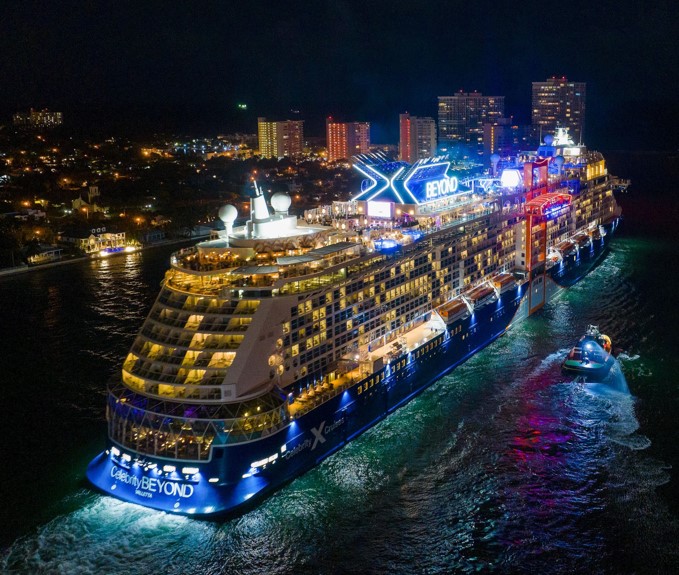 The Celebrity Flora is a smaller ship designed specifically for exploring the Galapagos Islands Taking her maiden voyage in 2019, this ship is 5,739 tons and can accommodate up to 100 passengers. It features eco-friendly design elements, such as a dynamic positioning system that allows the ship to remain stationary without dropping anchor, which can damage the fragile ocean floor. The Celebrity Flora has a variety of unique features, such as a stargazing platform and a marina that allows passengers to easily access the ocean for activities such as snorkeling and kayaking.
The Celebrity Millennium underwent a major renovation in 2019 to update its design and amenities. The ship has been transformed into a more modern and luxurious vessel that features new restaurants, bars, and entertainment venues. The Celebrity Millennium has a capacity of 2,138 passengers and will offer a range of itineraries in Asia and Alaska.
All Celebrity Cruise Ships
Celebrity Apex ®
Celebrity Ascent® sailing December 2023
Celebrity Beyond®
Celebrity Constellation®
Celebrity Eclipse®
Celebrity Edge®
Celebrity Equinox®
Celebrity Flora®
Celebrity Infinity®
Celebrity Millennium®
Celebrity Summit®
Celebrity Silhouette®
Celebrity Solstice®
Celebrity Xcel® sailing November 2025
Celebrity Xpedition ®
Celebrity Xploration ®
********************
You get more when you book with BJ's Travel instead of booking directly with the cruise line. We give you our exclusive bonus offers, plus all qualifying Celebrity Cruise Line offers, plus all of the Captain's Club benefits. Book your next Celebrity cruise today!
Call us at 888-743-2735 if you need help finding the perfect cruise.